Feeling frayed and at a loss? To address stress-related hair loss effectively, it is crucial to manage stress and anxiety levels. In this article, we will pull back the layers and offer optimal solutions for hair loss due to stress and anxiety.
When life gets tough, be it from a bad day at the office, financial issues, relationship problems, an injury, or any number of day-to-day challenges, it's not uncommon for stress and anxiety to creep in. You may be all too familiar with the surface signs: rapid heartbeat, shortness of breath, sore muscles, brain fog, irritability, restlessness, nausea, and even hair loss can persist, leaving out that much ill-at-ease. But what is going on inside the body when these symptoms are taking place?
As our bodies become stressed, a lot of internal gears start turning. Our muscles tense in expectation of injury or pain; in those suffering from chronic stress, taut muscles can trigger other reactions in the body, including migraines and musculoskeletal pain (though acute bouts of stress can lead to tension headaches and migraines as well). If you're stressed and start breathing more quickly, it's likely because the airway between your nose and lungs has constricted, which can lead to hyperventilation and, in severe cases, panic attacks. An elevated heart rate is among the more common symptoms—it arises in response to stress hormones flooding through the body.
You May Also Like:
5 Great Reasons to Try Peptides for Hair Growth
The Hidden Heroes: Unraveling the Antioxidant Mechanism and Its Impact on Health and Longevity
Tangled In Tension: Solutions for Hair Loss Due to Stress and Anxiety is an original (News7Health) article.
Types of hair loss due to stress and anxiety
When it comes to hair loss due to stress and anxiety, there are a couple of root causes. Chief among them is telogen effluvium, wherein stress forces hair follicles into a resting phase in which they won't grow or produce new hair strands. Another condition is trichotillomania—this psychological disorder sees people (most often teenage girls) physically pull hair from their scalp, face, or other body part in reaction to stress or anxiety. Losing hair, or dealing with any of these other symptoms of stress and anxiety, often perpetuates the cycle, so it's important to find healthy ways to cope.
Ways to prevent hair loss due to stress and anxiety:
1. Regular exercise
Exercise is a phenomenal, science-backed way to improve your overall well-being and consequently lessen stress. When you engage in any sort of sweat-inducing activity, your brain starts firing off endorphins, which are peptides that block our perception of pain and activate the body's feel-good receptors. While such effects from endorphins don't last all that long, endorphins also prompt the release of dopamine, another pleasure-promoting neurotransmitter that has longer-lasting results. Exercise also beats back the fight-or-flight response triggered by stress, thus limiting your body's exposure to elevated blood pressure, heart rate, and more.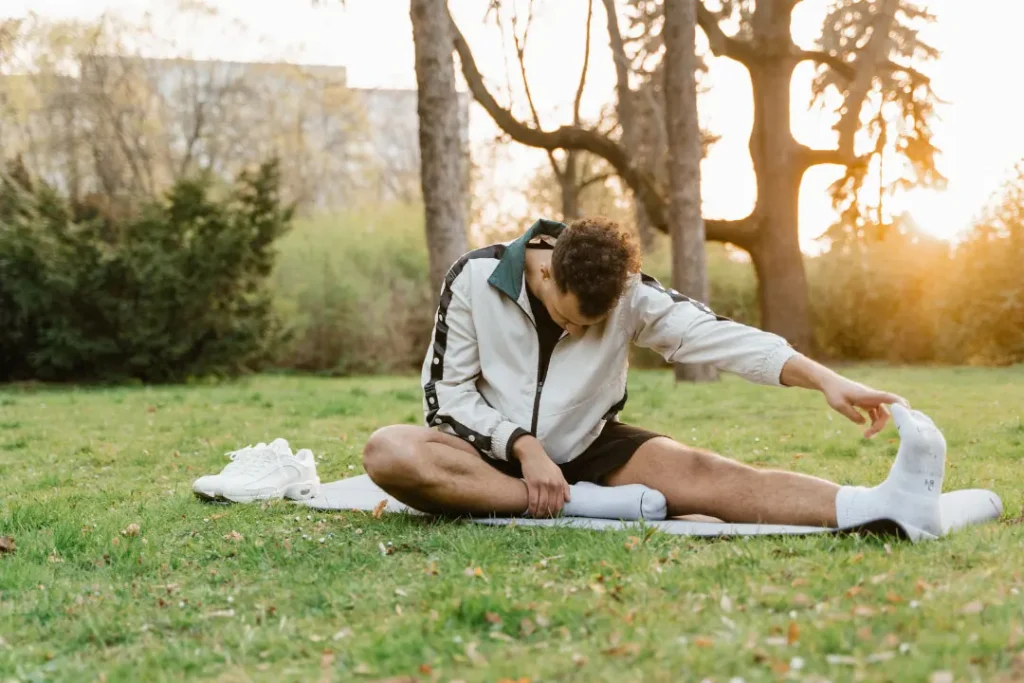 Ways to prevent hair loss due to stress and anxiety:
2. Meditation and yoga
Yoga and meditation aren't for everyone, but they each have research-backed, stress-bucking benefits. Both practices encourage complete mental relaxation via letting go of any and all attachments, be they positive, negative, or somewhere in between. There's also a major emphasis on bringing light inward—that is, opening your heart and mind to peace, joy, love, and community.
Yoga breathing may also lower stress-related physical symptoms like a rapid heartbeat or shortness of breath. If you need concrete evidence: In a 2019 study, a six-week yoga and meditation program for college students who were nearing final exams resulted in a significant reduction in stress and anxiety.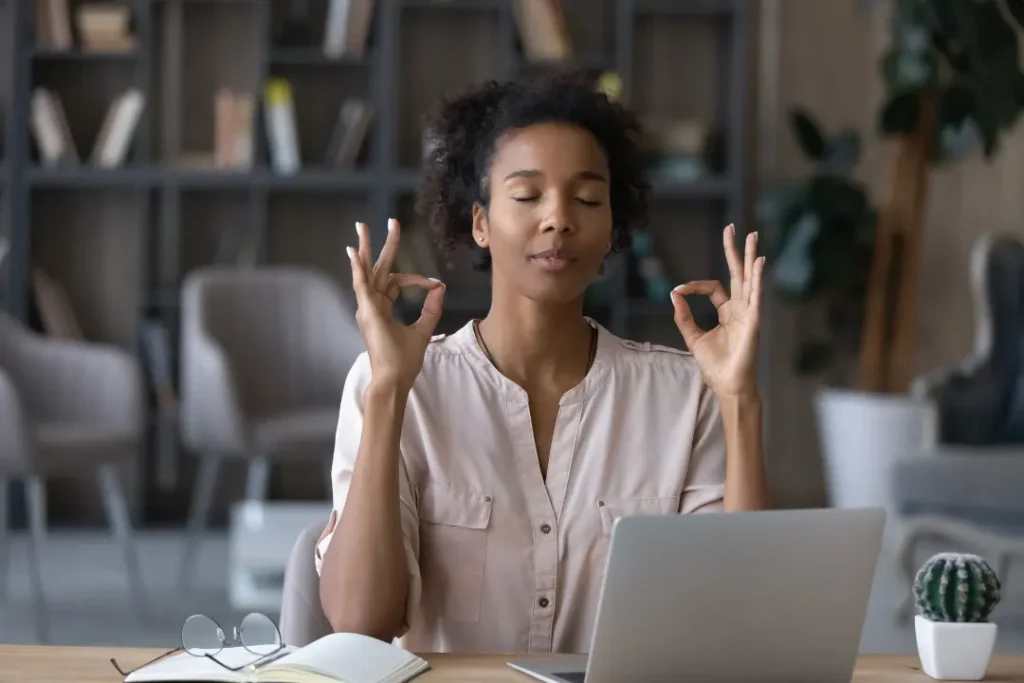 Ways to prevent hair loss due to stress and anxiety:
3. Supportive social circle
Having strong, supportive friendships can be a boon to those struggling with stress and anxiety. While we might not want to lay all of our woes at our friends' feet, being able to talk to a loved one about what's bringing you down can provide a sense of relief amidst the chaos.
Our friends can offer a shoulder to cry on and an ear to vent to when we need it most, which encourages better mental health in the long run, especially if they're able to offer sound advice and helpful feedback. Struggling with stress and anxiety can have you feeling as if you're on an island; healthy relationships may bring you back to solid ground.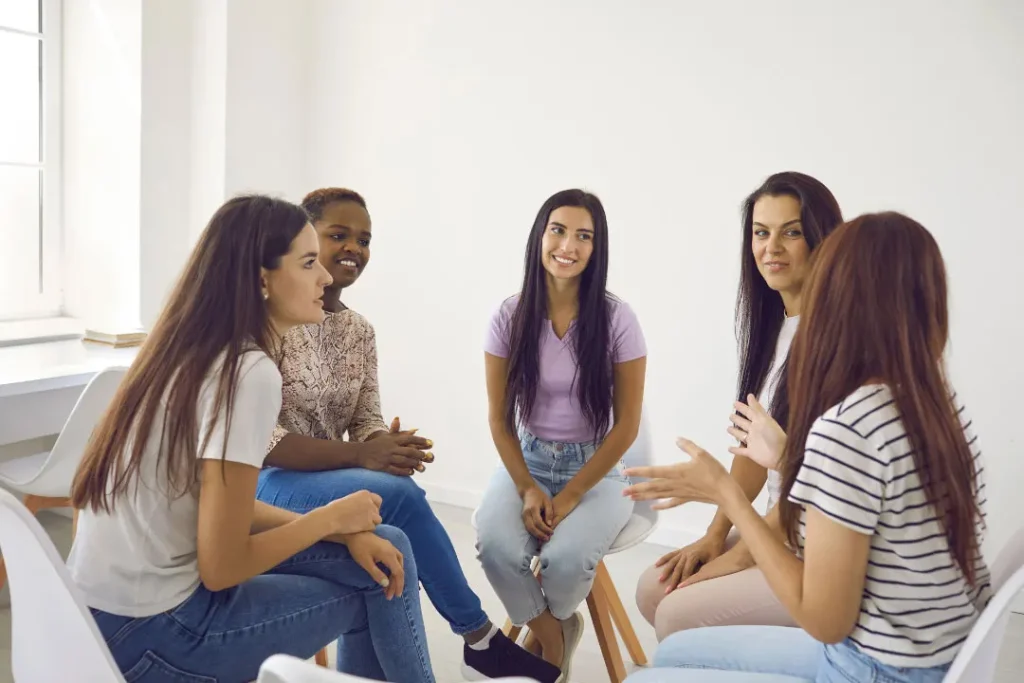 Ways to prevent hair loss due to stress and anxiety:
4. Therapy
Of course, when talking to a friend or loved one isn't quite enough, there's always a licensed professional. There are myriad methods for treating stress and anxiety, especially when they're more deeply rooted and lead to chronic conditions as opposed to acute bouts. One such form of psychotherapy is cognitive-behavioral therapy (CBT), which is a time-tested treatment for anxiety disorders.
During CBT, psychologists assist patients by leading them to their triggers—anything that may cause their stress and anxiety—and then providing ways in which to manage them. In more severe cases, psychologists can also prescribe anti-anxiety or depression medication, which can be used to prevent anxiety and stress from taking over in the long run.
Ways to prevent hair loss due to stress and anxiety:
5. Healthy diet
If therapy sounds too intense (or too expensive) and exercise alone isn't cutting it, switching up your diet to include various stress-reducing foods may provide the boost you need. As stress-prompted cortisol swirls within your body, inflammation also flares; eating anti-inflammatory foods high in omega-3s and magnesium can counteract this. That includes any number of fatty fish, avocados, bananas, dark chocolate, spinach, walnuts, and more.
Hair loss treatment to prevent further hair loss due to stress and anxiety
In keeping hair strong in the face of stress, using supplementary hair care may prove highly beneficial, especially when employed in tandem with other stress-reducing activities. More Hair Naturally's well-rounded starter kit may be an excellent place to start if you're seeking results. Each kit includes their More Hair Naturally 9, Hair & Scalp Synergy, More Naturally Shampoo, and Amazing Moisture Control products, which work in tandem to repair and rebuild hair and promote growth. They also offer a potent Triple Stem Cell Shampoo individually.
The shampoo's organic aloe vera-based formula contains natural stem cells from ginseng, argan, and bamboo, as well as extracts from sunflowers, sweet almonds, wild cherry bark, and coconut. "The most unique aspect of this powerful and natural shampoo is the addition of 3 botanical stem cells that will repair and restore the hair shaft, giving the user a distinctive increase in volume, sheen, luster, and overall health of the hair and scalp," says More Hair Naturally founder Mahryah Shain.
Final thoughts on solutions for hair loss due to stress and anxiety
Stress and anxiety can weigh heavily on the mind, body, and soul, so it's best not to ignore such feelings and instead find ways to quell them. Remember to be kind to yourself—we've all experienced stress and anxiety at some point in life. With the proper tactics, they can fall by the wayside.
For further reading:
Anxiety & Depression Association of America: Tips and Strategies to Manage Anxiety and Stress
Mind: Stress
National Institutes of Health: How stress causes hair loss
Important Note: The information contained in this article is for general informational purposes only, and should not be construed as health or medical advice, nor is it intended to diagnose, prevent, treat, or cure any disease or health condition. Before embarking on any diet, fitness regimen, or program of nutritional supplementation, it is advisable to consult your healthcare professional in order to determine its safety and probable efficacy in terms of your individual state of health.
Regarding Nutritional Supplements Or Other Non-Prescription Health Products: If any nutritional supplements or other non-prescription health products are mentioned in the foregoing article, any claims or statements made about them have not been evaluated by the U.S. Food and Drug Administration, and such nutritional supplements or other health products are not intended to diagnose, treat, cure, or prevent any disease.