It would be an understatement to say that it's important to get enough sleep. However, many people who struggle with sleep issues underestimate the connection between shut eye and sleep hygiene. Cultivating good sleep hygiene practices is essential to getting high-quality sleep every night. Read on to learn how to use sleep hygiene to get better rest.
You May Also Like:
CBD Supplements for Muscle Aches & Cramps
How to Use CBD Oil for Erectile Dysfunction
The science behind sleep
Before we go into the details on shut eye and sleep hygiene, let's discuss the basics of how sleep works. Though there is much debate on why we sleep, the consensus is that sleep is a time for the brain to reorganize itself. This could potentially mean that sleep allows our brains to retain information from the previous day.
While we sleep, we repeatedly cycle through two different kinds of sleep: REM (Rapid Eye Movement) and non-REM. Non-REM sleep is more important for learning and memory, while REM sleep is when we dream. Our sleep is regulated by our circadian rhythms, a sort of biological clock. Our body naturally interacts with various hormones, molecules, and proteins to regulate different physical, mental, and behavioral changes. When it comes to sleep, the main hormone is melatonin. Melatonin production increases during darkness and falls when it's light out.
These systems create a natural process for our body to fall asleep. However, circumstances both within and out of our control can affect this process, as we'll see when we discuss sleep hygiene.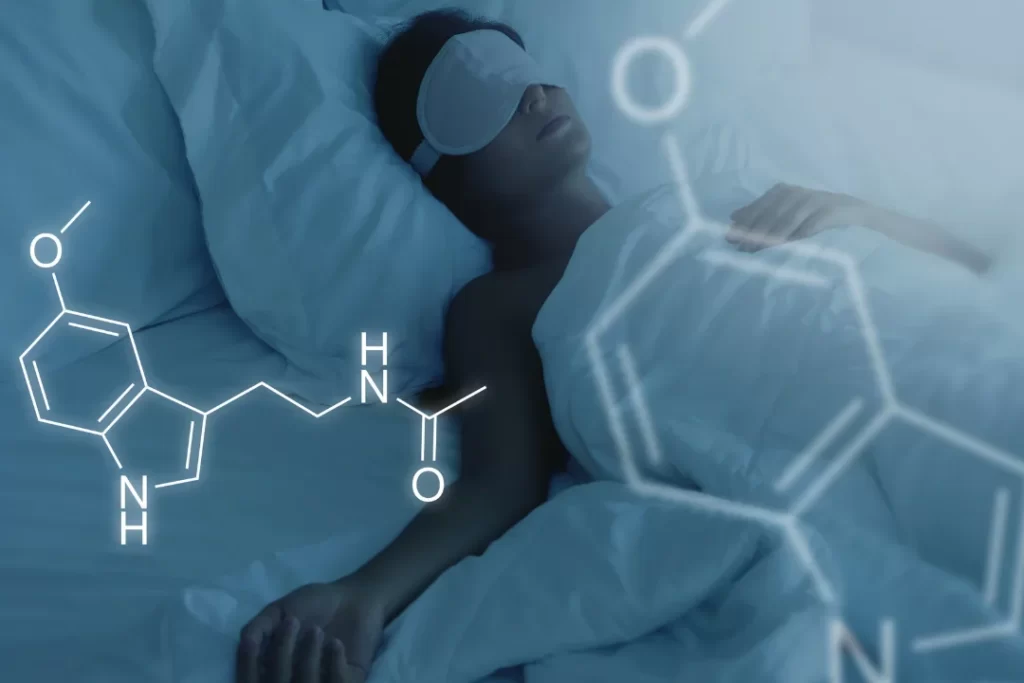 What is sleep hygiene?
Before we discuss the connection between shut eye and sleep hygiene, let's discuss what sleep hygiene is. According to the Sleep Foundation, sleep hygiene refers to having an environment and routines that promote quality, uninterrupted sleep. The goal is to form everyday habits that promote higher-quality sleep. In turn, better sleep is associated with a wide variety of health benefits, such as a stronger immune system, lower risk of heart attack, improved weight management, and increased productivity, among many others.
Getting enough sleep should be a no-brainer if you want to get things done.
Shut eye and sleep hygiene
Achieving proper shut eye and sleep hygiene can come in many forms. For instance, one key element is that you have a quiet, dark room to sleep in. Another recommendation is to avoid caffeine, alcohol, and large meals just before bed. You should also turn off your electronic devices two to three hours before sleep. This is because blue light from electronics has been shown to suppress melatonin for longer compared to other lights, thus making it harder to sleep.
In terms of routines, the CDC recommends consistency, so that you go to bed and wake up at the same time every day. Proper diet and regular exercise can also improve your sleep quality. All these factors, especially when practiced on a regular basis, are key to strong sleep hygiene. Thus, with better sleep hygiene, you can get better sleep that'll help you make it through the day.
CBD and sleep hygiene
In some cases, natural supplements can improve your shut eye and sleep hygiene. We will highlight one in particular: cannabidiol (CBD).
CBD is an ingredient commonly derived from hemp plants. Though it is found in cannabis, CBD on its own does not produce a high. Instead, CBD works by interacting with our biological endocannabinoid system (ECS), which helps to regulate functions like sleep and the immune system. Specifically, CBD interacts with receptor systems in the body, changing how much of certain compounds (such as anandamide, which regulates pain) are produced. All of this creates a calming effect.
CBD has a variety of positive effects. While it is calming, CBD has also demonstrated anti-inflammatory and pain relief benefits. CBD can serve as pain relief that makes it easier to fall asleep. In addition, CBD can help with anxiety, another condition linked to poor sleep.
While there are plenty of sleep-related CBD products on the market, the CBD products from Partnered Process deserve special mention. Partnered Process was founded in 2018 by businessman Sam Ward and engineer Drew Faude. Their goal was to partner with farmers to create hemp products through clean and environmentally friendly methods. Today, Partnered Process offers organically sourced, laboratory-tested full-spectrum hemp products. These practices ensure their customers are getting the highest quality CBD.
Partnered Process offers a few different products that aim to improve shut eye and sleep hygiene. For instance, their Full-Spectrum CBD softgels offer sleep and mood support. The calming effect of CBD allows for better, more restful sleep, as well as improved mood. Furthermore, this product's combination of cannabinoids, nutrients, proteins, and other ingredients creates an 'entourage effect', providing strong therapeutic benefits. Besides the hemp extract, other ingredients include fractionated coconut oil, Beta Caryophyllene, and gelatin shell. Partnered Process' CBD2 with Vitamin D Full Spectrum Oil offers similar benefits. However, this one comes in an oral oil form (you apply it under your tongue) and has the additional benefits of Vitamin D and better digestion.
A calm mind leads to the best shut eye
The research shows a strong connection between shut eye and sleep hygiene, so cultivating good habits and a healthy lifestyle is essential to ensure you get a good night's sleep every night. If you need a little boost, CBD products like those from Partnered Process are great supplements to calm your mind and help you get the rest you need. Once you do get enough sleep, you can enjoy the myriad of benefits it provides, such as better memory, lower risk of weight gain, and improved emotional and social intelligence.
We hope this has been an informative look at shut eye and sleep hygiene. Sleep well tonight!
Further Reading:
HealthySleep (Harvard University) – Twelve Simple Tips to Improve Your Sleep
Mayo Clinic – Sleep tips: 6 steps to better sleep
The Sleep Doctor – CBD for Sleep
Health – What Are the Health Benefits of CBD?
Important Note: The information contained in this article is for general informational purposes only, and should not be construed as health or medical advice, nor is it intended to diagnose, prevent, treat, or cure any disease or health condition. Before embarking on any diet, fitness regimen, or program of nutritional supplementation, it is advisable to consult your healthcare professional in order to determine its safety and probable efficacy in terms of your individual state of health.
Regarding Nutritional Supplements Or Other Non-Prescription Health Products: If any nutritional supplements or other non-prescription health products are mentioned in the foregoing article, any claims or statements made about them have not been evaluated by the U.S. Food and Drug Administration, and such nutritional supplements or other health products are not intended to diagnose, treat, cure, or prevent any disease.